Music For Fun!
This FREE live music interactive group is meant for seniors to find joy in music-making in a positive social setting that encourages incorporating music experiences into your daily life.
Chardon Senior Center 10:30-11:30am on the 2nd and 4th Fridays each month: March 9 & 23; April 13 & 27; May 11 & 25 of 2018
---
Open House at a New Clinical Space
Come check out the newest private clinical space available for Sound Inspirations Music Therapy clients. Learn about other therapist and practitioners who share this space as well.
Trust Your Heart, LLC 12:00pm – 4:00pm on Sunday, January 28th 2018

Located at 25901 Emery Rd Suite 105 Warrensville Heights, OH 44128
---
Introduction & Survery for Music Enrichment Programming
As lunch is served, check out this short presentation that showcases ideas for music enrichment programming available by Sound Inspirations Music Therapy. Complete the survey afterwards to determine this year's quarterly programs.
Perry Senior Center 12:00pm – 12:15pm on Wednesday, March 7th 2018
---
Spring Concert:
Lake Effect Concert Band 
Enjoy a FREE concert full of Lake and Geauga County community members!
Perry High School 7:30pm – 9:30pm on Friday, March 23rd 2018
---
Joy of Music Visits
Click here to learn more about this unique gift of spending time in music with your loved ones for a fun addition to any special celebration!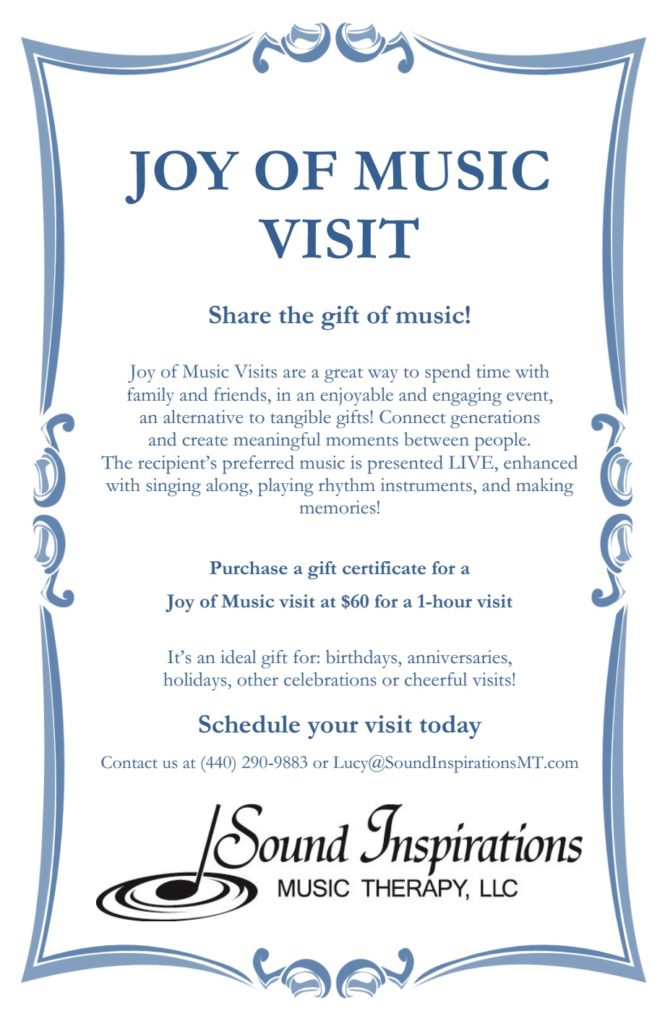 ---
Senior Piano Lessons
It's never too late to learn how to play the music you love! Private individual lessons are adapted to your learning style for a most rewarding and successful experience. Students may be beginners to advanced level musicians. Piano books cost extra, or you are welcome to bring your own.
Willoughby Senior Center: $40 for 2 lessons scheduled within one month

30-45 minute lessons are offered on Fridays between 12:00p-2:30p
---
See our ad on page 38 of the Mentor City Magazine, sponsored in part by the Mentor Area Chamber of Commerce.
Page last updated: March 5, 2018