LIVE, in-person, and outside!
6-week Session of Classes For Children 0-5 yrs old with an Adult
Session I Classes: Wednesdays at 4pm or 4:45pm on May 4 – June 8th
Session II Classes: Wednesdays at 4pm or 4:45pm on July 6th – August 10th
Registration per family: $55 per Session or $10 per Class
This programs is great for…
Families that are:
looking for IN-PERSON, LIVE, group activities for their young children
seeking CREATIVE and STIMULATING experiences in a SOCIAL setting
interested in one activity for MULTIPLE CHILDREN to enjoy doing together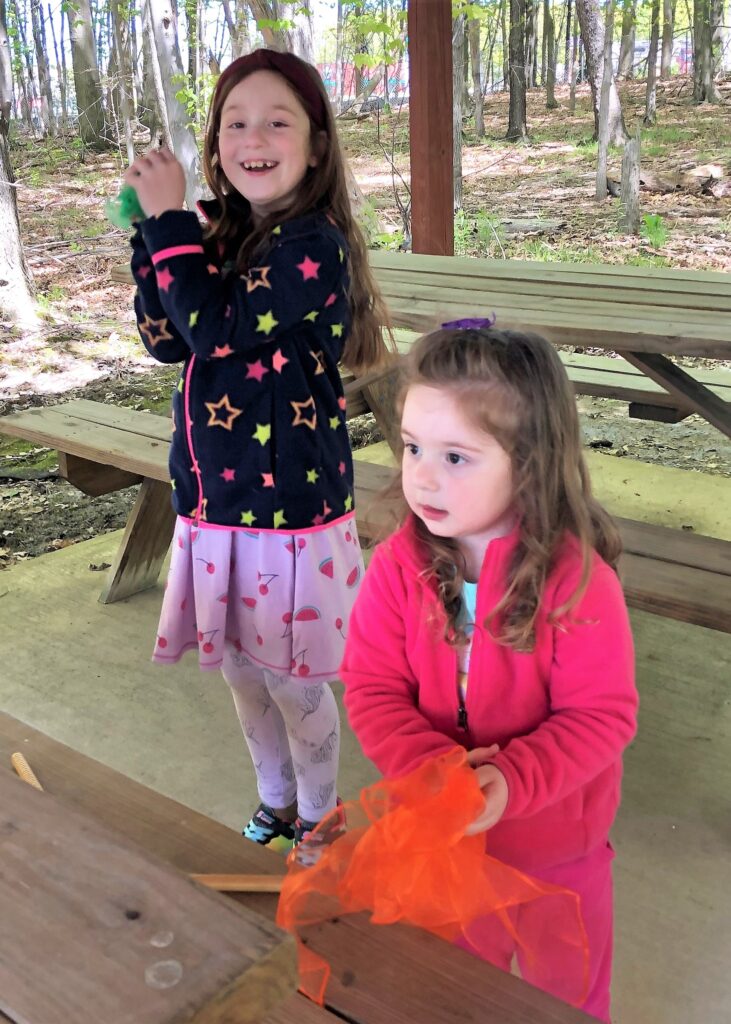 Children that are:
curious to PLAYFULLY try new activities
ENERGETIC and may like EXPLORING MUSIC
apt to ENJOY BEING AROUND OTHER CHILDREN
Parents and caregivers that are:
looking for SOMETHING NEW, FUN, or different to do with the children
craving opportunities to GET TOGETHER, SAFELY, with other adults and young children
desiring an experience LED BY A PROFESSIONAL, with TAKE-HOME IDEAS & MATERIALS
This program is provided as part of a partnership with a local community center. Call or register online now:
Wednesday classes at Kirtland Community Center, register online or call (440) 256-4711
Registration options: $10 per family per class or $55 per family for the 6-week session. Call the community center for details or register via their website.
---
Family Music Time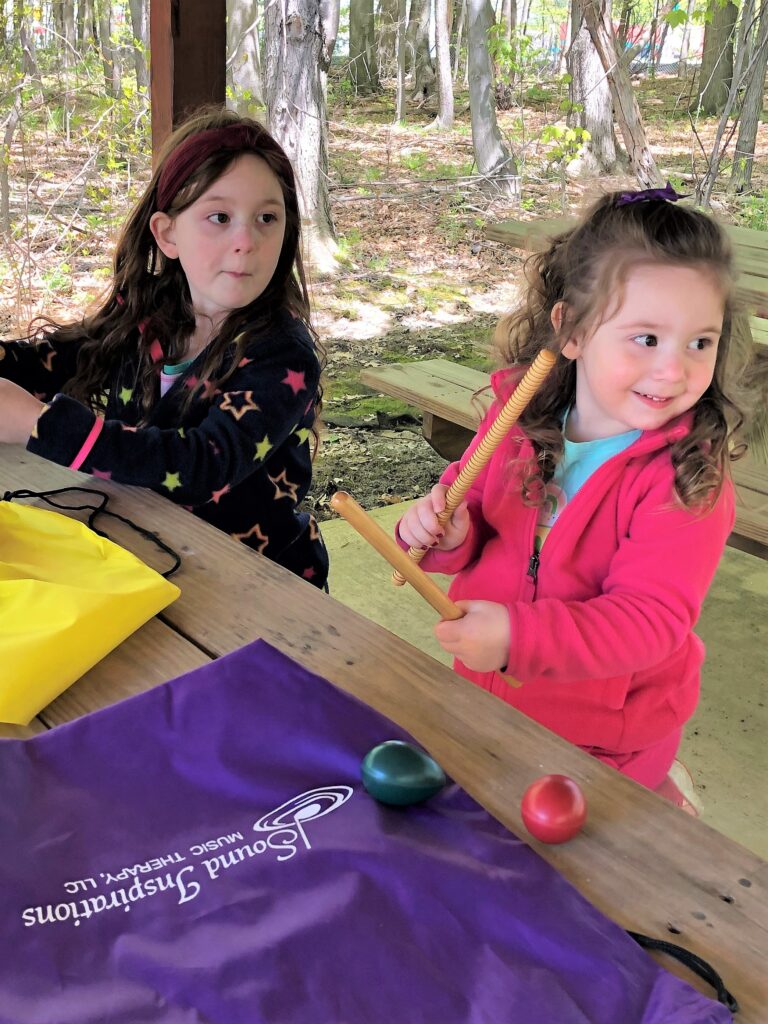 Group Classes for Children 0-5 years old with an Adult
'Family' unit = 1 adult with 1-3 children
Keep the instruments!? Families have the option to purchase materials kits (valued at $25 each) containing 4 instruments and props in a cinch bag to keep and bring to each class!
This is a hands-on entertaining half-hour of LIVE music activities for pre-school aged children, held under a pavilion outdoors with each 'family' unit at their own picnic table. Music activities will bring us together as a shared experience in-person! This group is led by a board-certified music therapist to facilitate musical peer to peer interactions for the children and adults; foster a welcoming group for creating new in-person social connections; and provide ideas and examples of musical activities to continue at home with the option of purchasing a materials kit to keep! No prior music experience is necessary. Instruments and props will be provided for use at each class, and it is an option to purchase a kit of these items ($25) to keep and use in all classes you attend. The materials kit includes 4 instruments and props total in a handy bag. Class enrollment requires 3 to 10 families total per half-hour group timeslot. 'Family' unit = 1 adult caregiver with up to 3 children. Please call to request to purchase materials. Payment only accepted via cash or check in-person to the Kirtland Community Center at their main office before class.
Summer Session I Classes: Wednesdays: May 4, 11, 18, 25 & June 1, 8
Summer Session II Classes: Wednesdays: July 6, 13, 20, 27 & August 3, 10
Class times: 4-4:30p; and 4:45p-5:15p
Register online via Kirtland Community Center or Call (440) 256-4711
Register for Classes by Session ($55 for 6-weeks) –or– Register to join One Class at a time ($10 per class)
Purchasing a materials kit is optional, at $25 each. Call the community center for details or register via their website.
---
Materials Kit Includes Instrument and Props!
Materials kits include a total of 4 different instruments and props in a handy cinch bag! For example, items include: a pair of wooden rhythm sticks, a pair of egg shakers, a tambourine, and a movement scarf.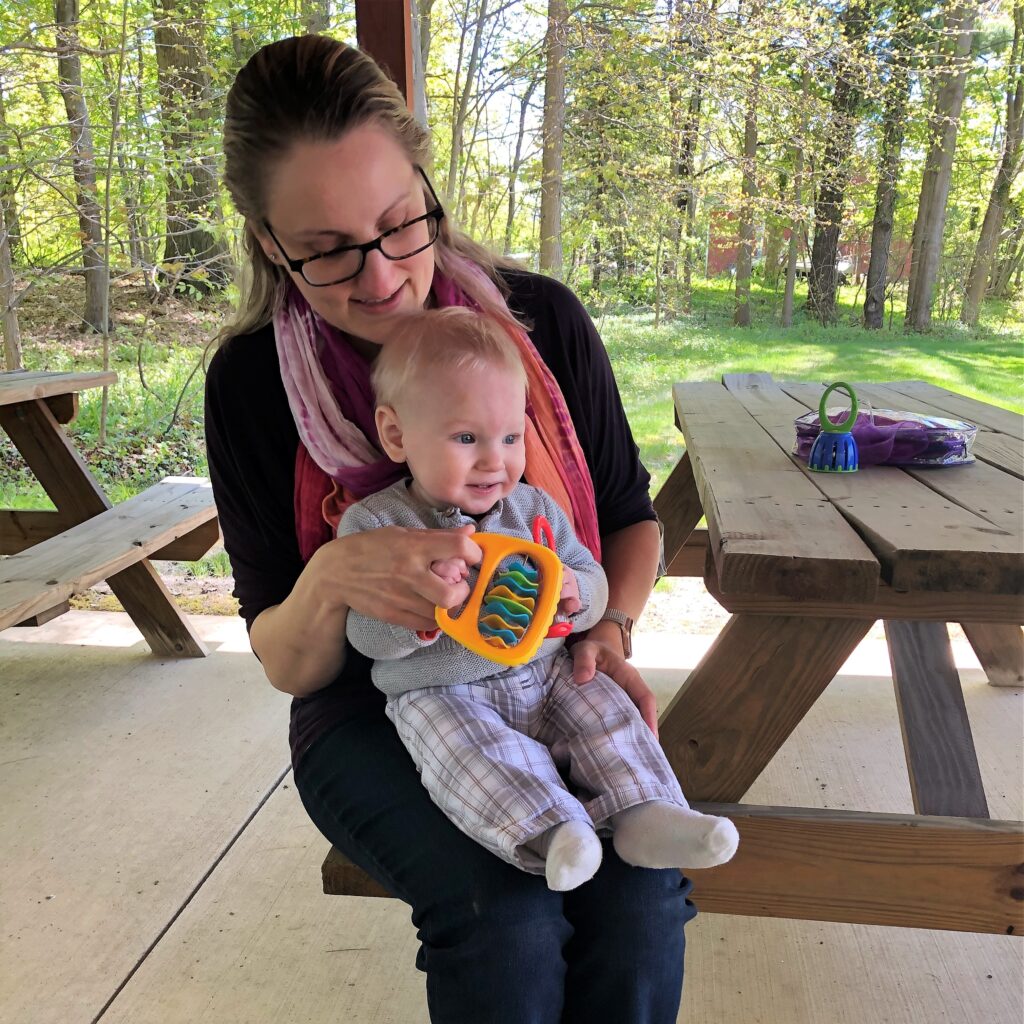 Baby Band Kit for 0-3 yrs old
Age appropriate instruments: tambourine; maraca; bell in a basket; mini rain-stick; and movement scarf in a clear plastic zippered bag
Materials Kits were intentionally designed for these groups such that they can be shared among children in a family. If desired, additional materials kits may be purchased for $25 each.
---
This program is provided as part of a partnership with a local community center. Call or register online now:
Wednesday classes at Kirtland Community Center, register online or call (440) 256-4711
---