Music For Fun!
This FREE live music interactive group is meant for seniors to find joy in music-making, as an example of what is possible for future on-going programming.
Chardon Senior Center 10:30-11:30am on Fridays, August 11 & 25 of 2017
West Geauga Senior Center 12:30pm-1:30pm Friday, August 18th 2017
---
Relaxation with Music
This FREE group program is meant to treat seniors to a moment of mindfulness and relaxation to music, while learning strategies to use at home.
Perry Senior Center 9:30am-10:00am on Tuesday, August 8th

This event will repeat once each quarter throughout 2017.
---
Come visit our vendor table at this FREE Day for Lake County residents and EVERYONE ages 55+. Register with Lake Health to receive your FREE health screenings here. Click here to learn more.
Lake Farmpark 9:00am-1:00pm on Thursday, September 14th
---
Joy of Music Visits
Click here to learn more about this unique gift of spending time in music with your loved ones for a fun addition to any special celebration!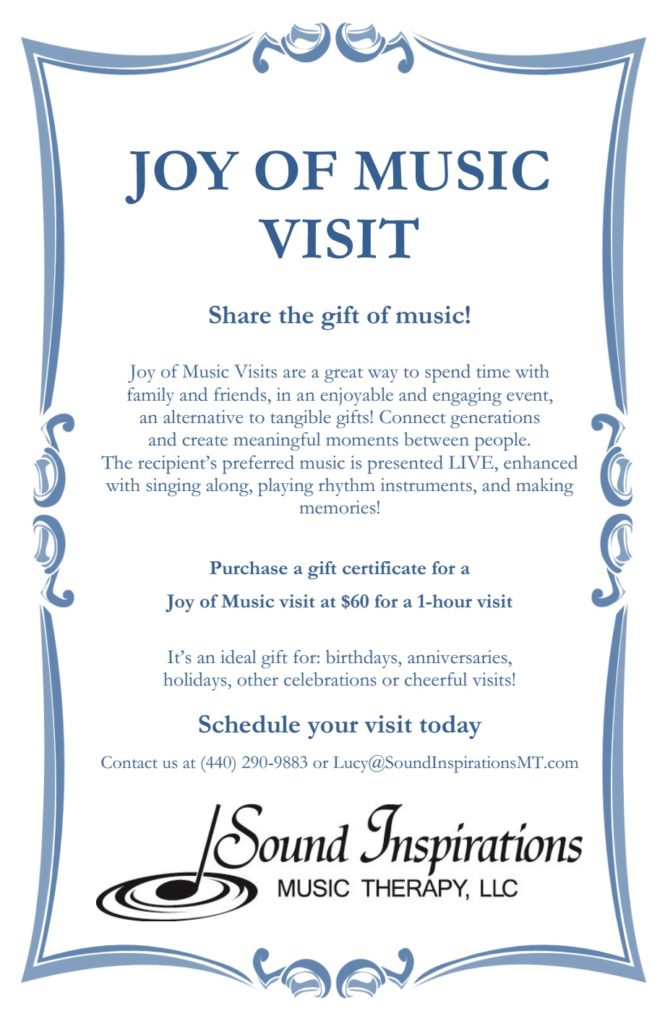 ---
Senior Piano Lessons
It's never too late to learn how to play the music you love! Private individual lessons are adapted to your learning style for a most rewarding and successful experience. Students may be beginners to advanced level musicians. Piano books cost extra, or you are welcome to bring your own.
Willoughby Senior Center: $40 for 2 lessons scheduled within one month

30-minute lessons are offered on Fridays between 12:30p-2:30p
Current discount: Sign up for your very first lesson for only $10!
---
See our ad on page 38 of the Mentor City Magazine, sponsored in part by the Mentor Area Chamber of Commerce of which we are members.
Page last updated: August 14, 2017